Sights and Activities Around Alaska
Anchorage is often the starting point for travelers visiting Alaska. Many points of interest require driving long distances and spending the night in other towns. To make your planning easier, Base Camp Anchorage hostel created this page to help plan your trip.

Heading northbound from Anchorage takes you to popular destinations such as Talkeetna, Denali National Park, and Fairbanks. If you go south, you will be connected to beautiful coastal towns like Whittier, Hope, Seward, and picturesque Homer. Those with more time in Alaska drive East to enchanting places like Wrangell St-Ellias National Park and Valdez.
Below we provide a brief description of these points of interest as well as recommended activities from travelers and staff at Base Camp Anchorage hostel. We have included sample itineraries and transportation options.
You can obtain more detailed information about planning your trip and places to see in Alaska at Alaska.org
Happy Trails!!!
Sample itineraries for travelers visiting Alaska.

3 days in Alaska
Spend one day in Anchorage and explore the Tony Knowles coastal trail by bicycle or hike Flat Top mountain just 40 min away. You can also explore the city and the Native Heritage Center or Anchorage museum. The following day head south to Seward by car, bus, or train. Take a day tour from Seward to see whales and glaciers. Spend the night in Seward and the following day hike the famous Exit Glacier on your return to Anchorage.
1 week in Alaska
Spend 1-2 nights in Anchorage to explore the city, hike, and rent a bicycle to explore the Tony Knowles Coastal trail. Spend 2 nights in Seward to take a day cruise to see whales and glaciers as well as visit the Sea Life Center, kayak, or hike the lost lake trail. Return to Anchorage and head north to Talkeetna (2 hours away) to explore this artsy eclectic town. Activites include rafting the Talkeetna river or take a plane (flight tour) to see Denali up close. From Talkeetna, continue driving north to Denali National Park (2 hours away). The following day take a tour on one of the wildlife buses to see bears, wolves, moose, and the tallest mountain in North America. Spend the night at the Morning Mountain Hostel in Denali then return to Anchorage and spend one last night at Base Camp Anchorage.
2 weeks in Alaska
Spend 2-3 nights in Anchorage hiking and exploring (see above). Drive south to Hope to spend 1 night to see this charming little town along the coast. Along the way make a day trip to the resort town of Girdwood for sightseeing and hiking or visit the town of Whittier and Wildlife Conservation Center to see bears, moose, and bison. After spending a night in Hope, continue south to Seward (1-2 nights) for whales, glaciers, and hiking. South of Seward lies the artsy fishing town of Homer. Spend 2 nights here and take a water taxi across the bay to Halibut Cove or to Grewingk glacier for a day hike. After exploring Homer return to Anchorage ( 5 hours) and spend the night before continuing north to Talkeetna the following day. On your way there take the scenic drive through Hatcher pass through the Talkeetna mountains. From there head to Denali National Park for 3 nights of hiking and camping. There are limited trails when hiking in the backcountry in Denali, a permit at the backcountry office is required. Return to Anchorage and spend your final night at Base Camp Anchorage hostel to relax in our wood burning stove sauna.
3 Weeks in Alaska
Same as our 2 week itinerary but after visiting Denali continue north and spend 2 nights in Fairbanks to explore Chena Hot Springs (in the winter it's a perfect spot for dog sledding and watching the northern lights). From Fairbanks, adventurous guests take a road trip north along the Dalton Highway (dirt road). This road takes you to the Arctic ocean to the town of Deadhorse and Prudhoe Bay. Making this 2-3 day trip requires special preparations as resources along this dirt road are limited. An alternate to the Dalton highway is to return to Anchorage via the Richardson Highway (scenic route) to the small town of Tok, then take the Glenn Highway back to Anchorage. There are many places to stop along the way to hike, one of our favorites is Matanuska glacier.
4 Weeks in Alaska
Same as 3 weeks in Alaska but include a visit to Wrangell St. Elias National Park for 3 nights of hiking and exploring in the small town of McCarthy. The majestic mountains and glaciers of Wrangell St Elias are often a favorite for travelers who like to venture off the beaten path. From McCarthy drive down to Valdez for 1-2 nights for hiking, fishing, or kayaking to the Columbia glacier. From Valdez you have the option to return to Anchorage by road or take your vehicle on the Alaska Marine Highway Ferry back to Whittier. You can spend the night in Whittier or drive back to Anchorage (1.5 hrs away).
Transportation throughout Alaska
Anchorage North to Talkeetna, Denali, and Fairbanks
Go Purple Shuttle: Popular with mountaineers climbing Denali; picks up directly from our hostel and drops you off in Talkeetna.
Alaska Yukon Trails: Bus shuttle service between Anchorage, Talkeetna, and Denali. Picks up directly from our hostel.
Alaska Coach: A bus line that operates between Anchorage, Denali National Park, Talkeetna, Whittier and Seward.
Alaska Railroad: Online reservations for the Railroad, scenic train ride north from Anchorage to Talkeetna, Denali, and Fairbanks.
Anchorage South to Whittier, Seward, and Homer
Seward Bus Lines: Anchorage to Whittier and Seward. Picks up directly from Base Camp Anchorage hostel.
Alaska Railroad: Also arranges tour packages including bus transfers to Whittier and Seward.
Stage Line: Transport from Anchorage to Homer on select days of the week.
Alaska Marine Highway: With 3,500 miles of scenic coastal waterways, nearly every stop on the Alaska Marine Highway is a perfect paddling-off point for you and your kayak. Some travelers enjoy taking the boat from Homer to Kodiak Island and Seldovia.
Non-Airport Car Rentals

Happy Tours USA: Discounted car rentals for International Travelers.
Turo: A new rental car concept: rent directly from locals in Anchorage at a cheaper rate.
Midnight Sun Car and Van Rental: Local car rental in Anchorage.
Car Rental Tip: Some travelers rent a car in nearby Wasilla (40 min) for a cheaper rate. You can take a bus from Anchorage to Wasilla.
Transportation in Anchorage
People Mover Local bus system time tables and destinations.
Popular Travel Destinations North of Anchorage
Talkeetna
A two hour drive north of Anchorage from our hostel lies the artistic town of Talkeetna, which embodies a unique flavor of Alaska.
Initially a gold mining town in the early 20th century, this quaint artsy town is well worth a visit. Cafe's and restaurants line it's a main street as well as live music at the Fairview Inn. Talkeetna is also known to mountaineers as the staging area for ascents of Denali, Mount Foraker, and surrounding peaks.
The Talkeetna Historical Society Museum showcases the history of Denali as well as the climbers who made its first ascents. When visiting Talkeetna be sure to check out the Section House that displays a model of Denali with climbing routes taken and famous photos of the mountain.
Visitors not climbing the mountain but desire to see majestic Denali up close can take flight-seeing tours from the local airstrip. In addition to the highest peak in North America, enchanting views of the Alaska Range and glacier landings can be arranged.
Find out more information on Talkeetna here.
Recommended Hikes: Kesugi Ridge Trail. A 2-3 day overnight hike with amazing views of Denali and the Alaskan Range.
Flight Seeing Tours:
K2 Aviation: http://www.flyk2.com/
Talkeetna Air Taxi: http://www.talkeetnaair.com/
Denali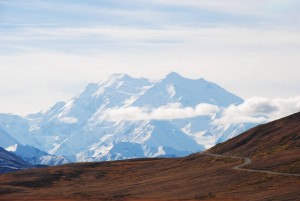 A five hour drive north of Anchorage along George Parks Highway resides Denali National Park and Preserve, one of the most visited national parks. Home to the tallest mountain in North America, Denali towers at 20,320 feet. Thousands of visitors from around the world migrate here each year to catch a glimpse of the mountain or spend days hiking and camping in the surrounding wilderness.
A reminder to guests staying at our hostel: Overnight camping requires a permit from the back country office, which can be arranged at the time of arrival. Those who know the precise region of the park where they would like to hike and camp should arrange permits in advance as slots fill up quickly.
From the visitors center, wildlife tour buses take travelers 92 miles into the park along a winding dirt road. Stunning scenery is abundant with opportunities to see bears, wolves, moose, and dall sheep. Most guests who stay at Base Camp Anchorage generally spend at least 2 to 3 nights in Denali exploring the park.
Recommended Camping in Denali: Wonder Lake: slots fill up fast but camping here offers breathtaking views of Denali on a clear day.
Find out more information on visiting Denali here.
Fairbanks
Seven hours north of Anchorage by car is Fairbanks, a popular tourist destination during to winter to witness the solar flairs of the infamous Aurora Borealis (Northern Lights).
For visitors to Fairbanks during the warmer summer months, you will be welcomed by up to twenty two hours of sunlight during solstice in June. Check out the nearby Chena Hot Springs; a favorite among weary hikers returning from their hikes.
Other interesting activities in Fairbanks include the Creamer's Field Migratory Waterfowl Refuge, the Morris Thompson Cultural Visitors Center, and the Fountainhead Antique Auto Museum.
In the city lies a popular local brewery (Hoodoo) and for many of our hostel guests, Fairbanks is considered the launching point for the long drive north to the Arctic to visit Prudhoe Bay, 499 miles from Fairbanks. The Dalton Highway or "Hall Road" takes you through scenic Brooks range mountain passes before you take in the sights of this coastal Arctic town. The journey should clock you 14+ hours of road time. For those embarking on this journey be prepared for limited resources, extra fuel and food is a must.
Find out more information on visiting Fairbanks here.
Popular Travel Destinations South of Anchorage
Girdwood
A beautiful and scenic town just 40 minutes south of Anchorage, this short drive from our hostel is filled with breathtaking scenery along Turnagain Pa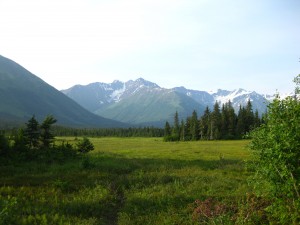 ss. Girdwood is home to the famed Alyeska Resort, where many skiers spend a good portion of their time in winter. In the summertime, numerous outdoor activities entertain including hiking trails, mountain biking, tandem paragliding, and sightseeing in the gorgeous surroundings.
Along the way, take the time to fill your water bottle at a natural mountain spring! Just a smidge before mile 109 on the Turnagain Arm, there is a pull out on the highway and a spout jutting from the mountain rock face. Time your drive just right so that you can not only see whales at Beluga Point, but also the powerful show of nature that is the Bore Tide.
Girdwood is also home to delicious restaurants (with equally delicious views). Jack Sprat is a favorite, as well as the Bakehouse, famous for its sourdough pancakes. Stop by the gas station at the turning point to pick up a bag of our favorite yogurt covered pretzels!
Learn more about Girdwood here.
Whittier
Just an hour and 15 minutes from Base Camp Anchorage hostel down the famous Seward highway lies the tiny, yet compelling town of Whittier.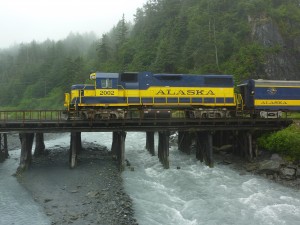 For history buffs or World War II aficionados, Whittier is a worthwhile stopping point. During the war, the United States Army constructed a military facility, complete with a port and railroad terminus. To provide access to Anchorage from the port, the Army blasted a supply tunnel out of solid granite. The Anton Anderson Memorial Tunnel is considered an amazing engineering feat, and is the longest combined rail and highway tunnel in North America.. You can drive the 11 miles through the tunnel and be greeted by majestic 3,500 foot mountains and the delightfully aqua blue waters of Prince William Sound.
Cruise ships arrive here and offer visitors day trips to see idyllic glaciers in the area like Blackstone Bay. Kayaking trips are also available to nearby glaciers, floating icebergs, and the wildlife-rich waters.
More information on visiting Whittier, Alaska can be found here.
Seward
Two and a half hours by car along a memorable scenic highway is Se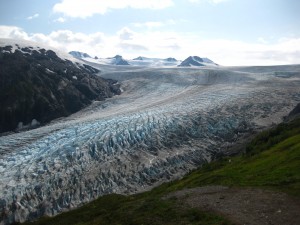 ward, one of Alaska's gems. Many of the guests staying at our hostel make it a point to check off Seward from their list. Rugged mountains to one side and pristine Resurrection Bay on the other. There is fantastic hiking at nearby Exit Glacier and day cruises along the coast to watch glaciers calve into the sea and spot sea lions and whales. The Alaska SeaLife Center is also a great way to learn about local marine wildlife.
Visitors will be thoroughly charmed by the offerings of downtown Seward, where cafes, specialty shops, delicious seafood restaurants, and tasty beer options abound. Warm up at the Resurrect Art Coffee House, a re-purposed old church that sells local art.
Recommended Hikes: The Lost Lake Trail: beautiful and scenic trail that begins just outside of Seward.
Exit Glacier Trail: Easy level hike to the glacier or a steep moderate to strenuous hike up along the glacier with amazing views.
Learn more about traveling to Seward here.
Homer
A four hour drive from Anchorage is the picturesque and dreamy town of Homer. A panorama of mountains, white peaks, and glaciers. Homer hosts an abundance of art galleries and superb restaurants, as well as local live folk music at the famous Down East Saloon.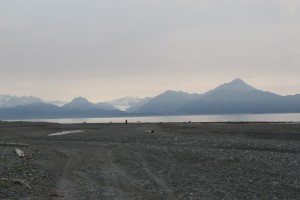 On the other side of the bay from Homer is Kachemak Bay State Park; a paradise of glaciers, mountains, and protected coves. Many guests staying at Base Camp Anchorage hostel enjoy hopping on water taxis across the bay to explore Halibut Cove and take advantage of the scenic hiking trails towards Grewingk Glacier. Other highlights from guests include daily charter boats to catch record-breaking halibut or taking walks along the coast and marveling at bald eagles in the area. Daily charter planes are also available for bear watching.
Visitors to Homer are encouraged to have a drink at their famous bar, a 1897 cabin dubbed the Salty Dawg Saloon. Here, you'll find dollar bills left by guests from yesteryear covering the walls.
Click here to begin planning your trip to beautiful Homer.
Wrangell-St Elias National Park and Preserve
For travelers with more time in Alaska, we strongly recommend taking the nine hour drive east from Anchorage to McCarthy, an old copper mining town. It is the gateway to the less visited but equally awe inspiring Wrangell-St Elias National Park and Preserve, the largest national park in the United States.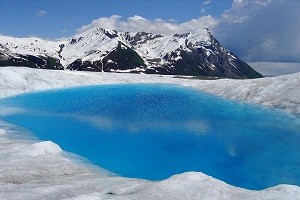 Several mountain ranges converge here and it is a favorite amongst travelers staying at Base Camp Anchorage hostel. Popular treks for hikers include the Liberty Creek Trail, the Root Glacier Trail, and Wagon Road Trail. The park includes a large portion of the Saint Elias Mountains, which include most of the highest peaks in the United States and Canada. The park's extreme high point is Mount St. Elias at 18,008 feet (5,489 m), the second tallest mountain in North America.
Another fun stop in the neighborhood is the abandoned mining town of Kennicott. This once affluent copper town is now considered a ghost town, and those who visit are rewarded for their bravery!
Kennicott McCarthy bound travelers, start your research here.
Valdez
South of McCarthy lies the town of Valdez (a six hour drive from Anchorage). Deep in Prince William Sound, it is an outdoor paradise surrounded by enchanting coastal mountains.
Day cruises offer visitors the opportunity to see Colombia Glacier and stunning mountain scenery.
Other activities include fishing for halibut and salmon as well as kayaking to one of the five nearby glaciers. River rafting is another popular option if you want to plan Alaska float trips, and we'd be remiss if we didn't mention the beautiful hikes with trailheads near Valdez (Bridal Veil Falls Trail and Solomon Gulch Trail come to mind!).
One highlight from Base Camp Anchorage hostel travelers arriving to Valdez by car is to jump aboard the Alaska Marine Highway ship with their vehicle back west to Whittier and return to Anchorage. This cuts hours from a return drive and is a perfect round trip back to Anchorage !
Learn more about visiting Valdez during your vacation in Alaska here.