Considered one of the last frontiers of raw and rugged wilderness, the Brooks Range draws outdoor enthusiasts from around the world looking to immerse th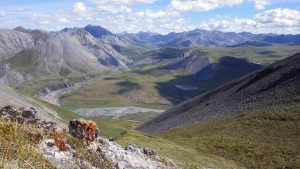 emselves in nature and connect to a land untouched. Located in the northernmost portion of Alaska, these mountains extend into Canada and are estimated to be up to 126 million years old. To help preserve this remote wilderness, the Arctic National Wildlife Refuge was created in 1960 and is the largest wildlife refuge in the United States.
In the summer of 2016 five of us made plans to explore the Brooks Range over 18 days. Our goal was to packraft the Kongakut river (a class 2-3 river) and bring paragliders to explore flying opportunities. This trip was considered a proof of concept idea as we had never attempted packrafting and paragliding simultaneously for 18 days. Thorough planning and logistics were required as help would potentially not be available for days if something went wrong.
As we began our trip a small "bush" plane flew us to the headwaters of the Kongakut river. These famous Alaskan beaver bush planes are capable of landing on difficult terrain. Our pilot chose a gravel bar along the river as our drop off point. Over the next few weeks we traversed over 40 miles towards the Beaufort sea in the Arctic.
As a precaution we brought an electric fence, bear spray, and bear resistant food bags to protect from curious or aggressive bears. Grizzly and Polar bears are known to roam the northern edges of the Brooks range. With melting sea ice there are reports of polar bears breeding with grizzly bears in an effort to survive a changing climate.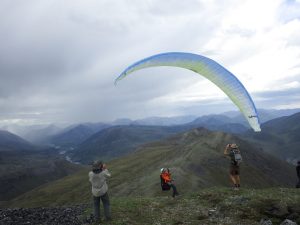 Working our way down the Kongakut river we stopped along several mountains to hike its ridgelines. Joe, Steve, and I paraglided from the top, while Sven and Kim explored the rest of the mountain by foot. An exhilarating feeling overcomes you while flying through the air; an intensity beaming with joy in witnessing such a remote and majestic part of the world.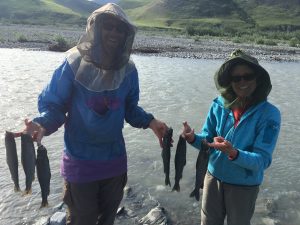 Throughout our time hiking, packrafting, and paragliding we encountered bears, dall sheep, and wolves. We fished for Arctic Grayling to supplement meals, bathed in tributaries, and photographed beautiful flowers and migrating birds. The indigenous people of this area, the Gwich'in, learned to live in harmony with this sacred land. Their relationship to this landscape has been vital and continue to teach us lessons.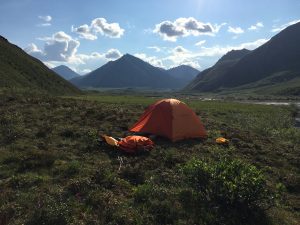 After arriving to the Brooks Range Howard Zahniser once noted "Without the gadgets, the inventions, the contrivances whereby men have seemed to establish among themselves an independence of nature, without these distractions, to know the wilderness is to know a profound humility, to recognize one's littleness, to sense dependence and interdependence, indebtedness and responsibility."
We are filled with appreciation for the opportunity to live in a land with so much beauty . Take a look at some of our pictures and a video of Joe Mclaughlin flying off one of the ridges.